Opal Inlaid Silver Jewellery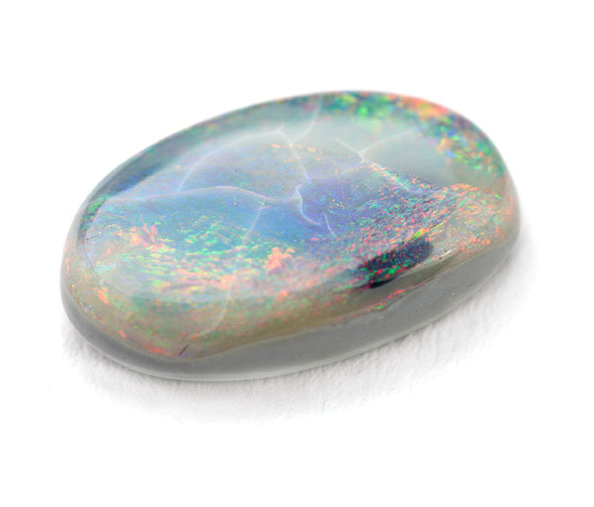 A number of our Handcrafted Silver Jewllery designs are inlaid with Opal semi-precious stones. Opal is known for its ability to diffract light. The exact cause of opal's unique properties was only recently discovered by Australian scientists in the 1960s after analysis with electron microscopes. It was discovered that small spheres of silica gel caused interference, refraction and diffraction of light, resulting in opal's distinctive play of color. The varying refractive indices of the spheres and spaces between them dissect the light on its passage through the stone. As light enters the opal, it bends around the tiny particles or 'spheres' of hydrated silica, as well as 'chips' of silicon and oxygen suspended within the stone. Light is comprised of all visible colors and can produce an entire spectrum of colors when it is diffracted.
What is Opal
Opal is a hydrated amorphous form of silica; its water content may range from 3 to 21% by weight, but is usually between 6 and 10%. Because of its amorphous character, it is classed as a mineraloid, unlike the other crystalline forms of silica, which are classed as minerals. It is deposited at a relatively low temperature and may occur in the fissures of almost any kind of rock, being most commonly found with limonite, sandstone, rhyolite, marl, and basalt.
The internal structure of precious opal makes it diffract light; depending on the conditions in which it formed, it can take on many colors. Precious opal ranges from clear through white, gray, red, orange, yellow, green, blue, magenta, rose, pink, slate, olive, brown, and black. Of these hues, the reds against black are the most rare, whereas white and greens are the most common. It varies in optical density from opaque to semitransparent.

How is Opal formed
Opal is formed from a solution of silicon dioxide and water. As water runs down through the earth, it picks up silica from sandstone, and carries this silica-rich solution into cracks and voids , caused by natural faults or decomposing fossils. As the water evaporates, it leaves behind a silica deposit. This cycle repeats over very long periods of time, and eventually opal is formed.
Healing power of Opals (for those interested in Crystal Healing)
Opal is a semi-precious stone that is aligned with water element. There are many different color variations of opals. Clear, white or water opals have been used as gazing tools as a way to look inward, a spiritual mirror.
In general Opals are helpful for enhancing dreamwork or assisting spiritual journeys. Fire opals (ranging in color from orange to red) can be used to stimulate change, manifest your ideas. They have also been associated with improving circulation.
[ Click here to explore our range of Opal inlaid Jewllery Designs]